Donor Profile: BB&T Economic Growth Fund
Facilities Maintenance Technology Certificate Program
Thanks to a two-year, $500,000 grant from the BB&T Economic Growth Fund of the Lancaster County Community Foundation, Thaddeus Stevens College now leads Lancaster in offering short-term certificate training in Facilities Maintenance Technology. Students may elect to take one, two or all six courses in building construction and maintenance fields. Each course is designed to give students basic skills. Students who complete all courses will continue on to paid work experience as part of a capstone project, repairing and maintaining various facilities in the Lancaster area.
In making this grant, BB&T intends to spur economic development by reducing poverty through training for well-paying jobs. The facilities maintenance career field is known as a "High Priority Occupation" in Pennsylvania. That means the job pays a living wage, requires training beyond high school, and has openings that exceed the available workforce.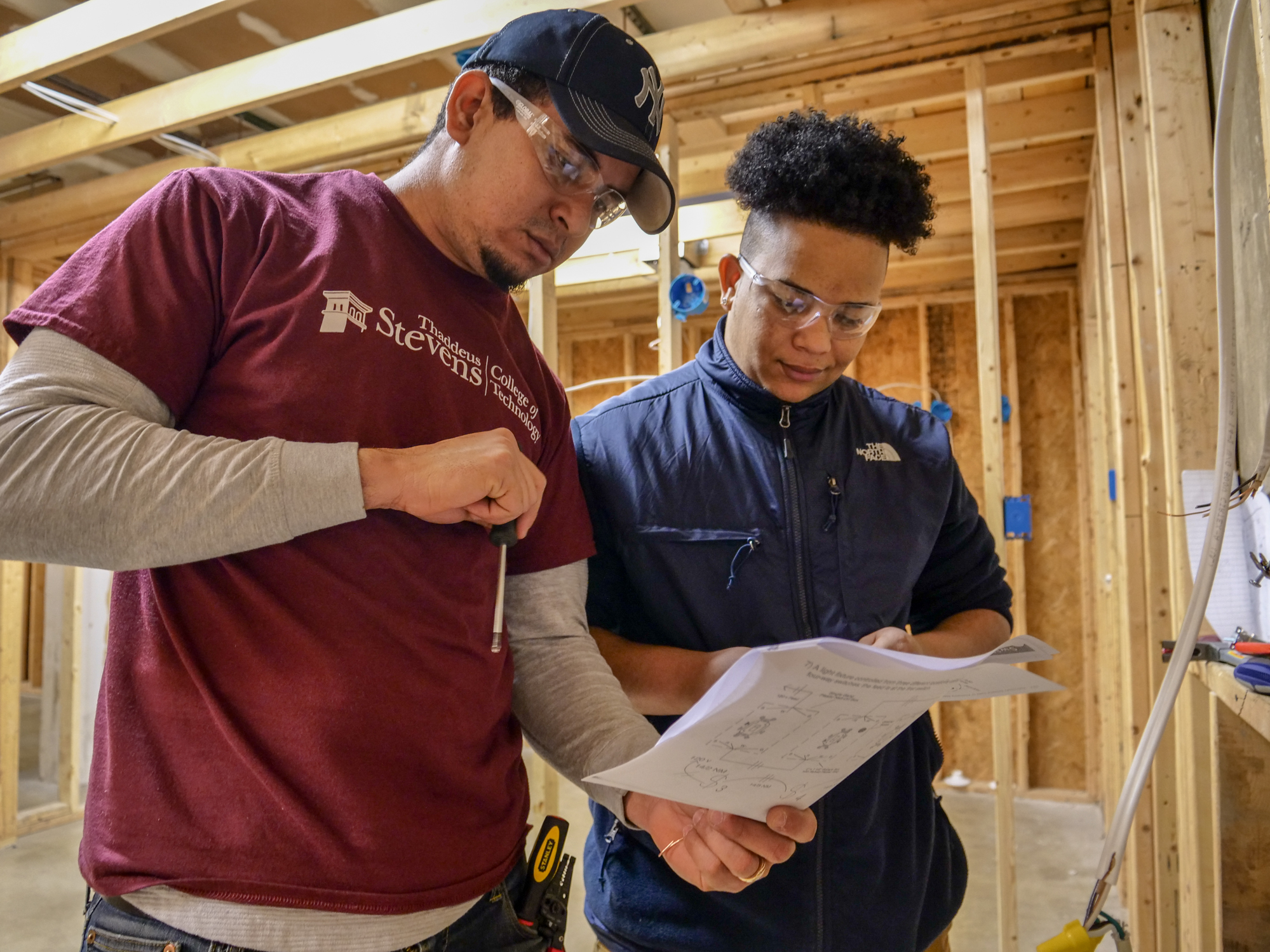 The first 19 students began in October 2017, having been recruited through PA CareerLink, Tec Centro, and other organizations. The hands-on instruction is held at Tec Centro, in the southeast corridor of Lancaster City. The lab has 1,800 square feet and presents an open, professional environment conducive for technical training. Thaddeus Stevens faculty teaching the courses are Timothy Draper (Carpentry), Michael Gardner (Masonry), Josephine Tyndall (Plumbing), and Michael Oxenford (Construction Electrician). Instruction in heating, ventilation, air conditioning, and finishing will also be covered.
The students range in age from 19 to 50. They hail from the Dominican Republic, Haiti, Iraq, Laos, Peru, Puerto Rico, and the United States. One recent immigrant is the father of three teenagers. He comes to class and then works second shift to help support his family. Several students are staying in temporary housing due to personal hardships.
Despite their differences, "students are focused and respectful," said Dr. Tim Bianchi, Continuing Education Project Manager. "They actively participate in lessons and demonstrate an eagerness to apply this new knowledge."
Their desire for a better life unites them.
"I truly feel this opportunity is a blessing," said Bobby, a student in the first cohort. "I never had much growing up and felt there was no hope for my future. This program
has allowed me to dream and look forward to a positive outlook on life."
Students know that employers want to hire people with experience and that having a certificate from Thaddeus Stevens College will give them credibility.
"This program is helping me to get a job," said Mohammed, another student. "To have a job is to have a life."
To learn more, visit: StevensCollege.edu/SkillUpFast

or contact Dr. Tim Bianchi: 717-299-7701 or