Leading in Giving Back
What do these groups and people have in common: A fireman who's rehabbing after being burned, Susquehanna Valley Wildcats Boys Basketball, Lancaster County Sheriff's Office, La Academia Charter School, Faith Tabernacle, The Common Wheel, and Lancaster County Restaurant Association?
8,000 hours of community service performed annually by Thaddeus Stevens students
These are just a few of the community groups and organizations that use Thaddeus Stevens College facilities at no cost or low cost. The multipurpose activity center (MAC) is the most often requested facility, but other groups make use of classrooms,
the track, Mellor Auditorium, Women's Center, Jones Conference Room, Hands Woods, and even the front lawn.
Here are some examples of community groups meeting at Thaddeus Stevens College:
Crispus Attucks holds its Men Who Cook/ Celebrating the Spirit of Juneteenth event in the MAC. The event combines food, fun, music and historical reenactors. It has been held at the MAC for a decade. Last year's event had 30 cooks and 300 diners. Cheryl Holland Jones, executive director, says her organizers love the air-conditioned space. Although it's a fundraiser, "We view the event as a way to create community and diversity around food and history," she says. Crispus Attucks has also held its annual MLK Day Breakfast in the MAC in past years.
La Academica charter school holds two events on campus annually, a seniors vs. staff basketball game in late spring and a field day in the football stadium on the last day of school.
Abundant Life Revival Ministry, a Hispanic
Christian organization, holds worship services in
the MAC every Sunday.
.918 Club seeks to preserve and share the tradition of American letterpress printing. When the organization lost its home in Building Character, Stevens College stepped in with a long-term, no-cost agreement for .918 to use the former Naval Reserve Building on Parkside Avenue, across the street from Thaddeus
Stevens on Orange. The College's architecture
students helped with early designs and blueprints
for renovating the building.
The College's front lawn hosted the annual Fete
en Blanc, an extravagant summer party and
fundraiser, in 2017.
The Jones Dining Hall is a polling place for the
sixth precinct in the city's seventh ward.
The Girl Scouts have held several events on
campus, including leadership training and STEM
workshops.
Other organizations to use Thaddeus Stevens
facilities at no charge include NAACP, Special
Olympics, AHEDD and Faith Tabernacle.
Opening its doors to the community is part of the College's long tradition of community service. In fact, Stevens College students perform more than 8,000 hours of community service for nonprofits from Philadelphia to the Pittsburgh area.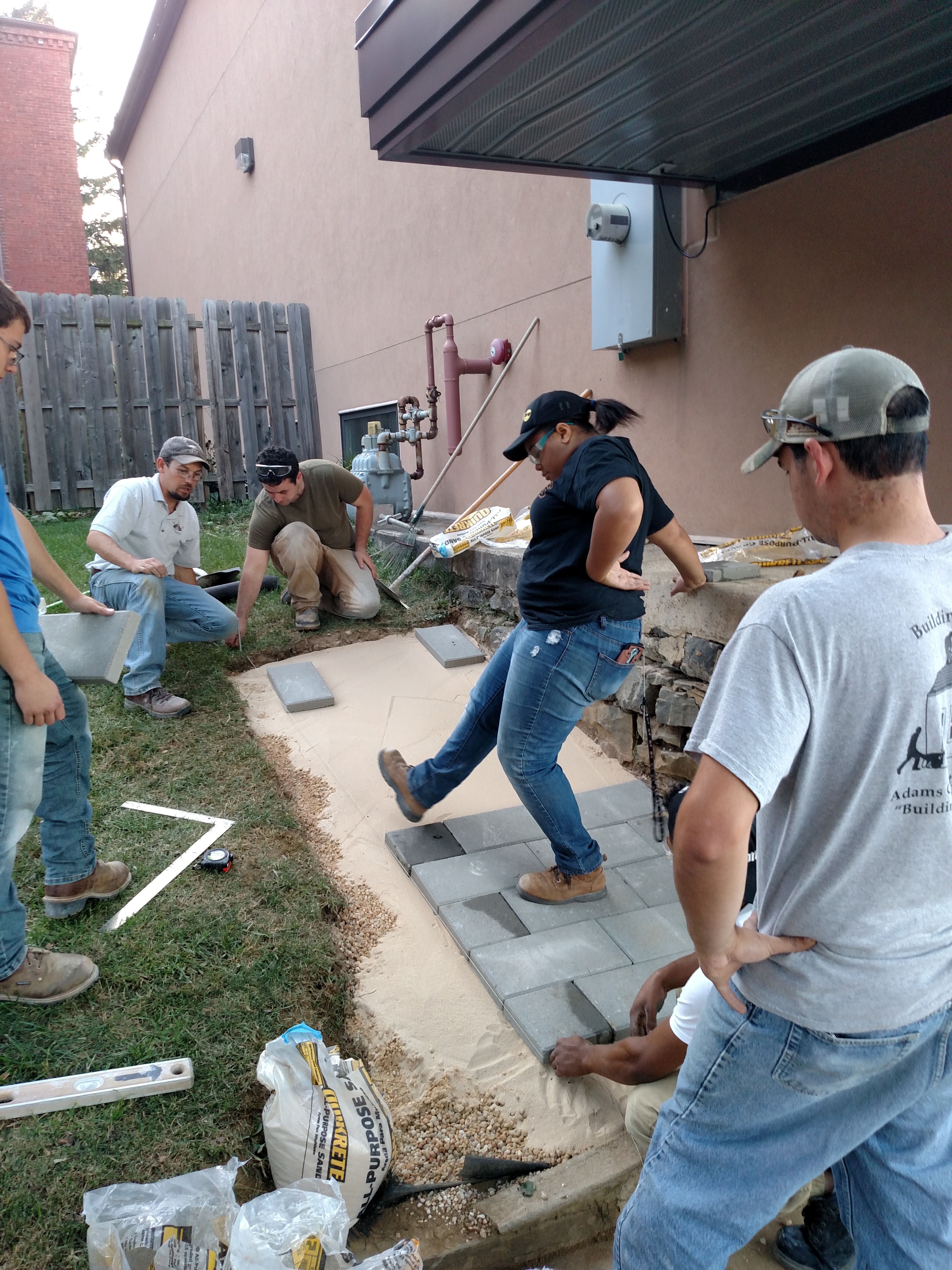 Thaddeus Stevens masonry students volunteered in October to help create new gardens and landscaping at La Academia charter school. The students installed a paver patio and prepared beds for shrubs, flowers, and trees.