President's Office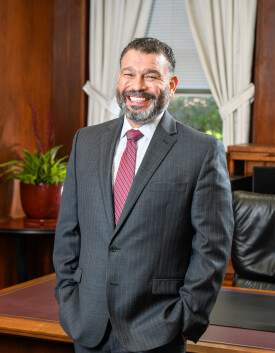 Meet President Rivera
Pedro Rivera, president of Thaddeus Stevens College of Technology, began serving in this role on October 1, 2020. He had prior served as Pennsylvania's Secretary of Education.
In 2014, President Rivera was honored by the White House as a Champion of Change for his efforts to transform urban education with his holistic approach to student success – one of ten recipients nationwide to receive the prestigious honor. Rivera serves as the Past President of the Board of Directors for the Council of Chief State School Officers (CCSSO), a nonpartisan organization of public officials who head state departments of elementary and secondary education.
"My whole career has been focused on serving students from underrepresented communities and providing opportunities for first generation college graduates, high school graduates. Being able to engage firsthand with an institution and to engage with faculty and staff and students who are focused on the same things that I believe in made me think, 'This was an opportunity of a lifetime.' And being able to do so from my home in Lancaster was the icing on the cake."
– Pedro Rivera
During his time as Secretary of Education, President Rivera engaged with educators, administrators, parents and students, as well as business and industry leaders, higher education officials and others to guide the department's work on issues that were important to the future of PA. Through initiatives like PA Future Ready Index and Pennsylvania's Every Student Succeeds Act, and Postsecondary Attainment goals, he has demonstrated his commitment to educational equity, a commitment that is foundational to the mission of our College.

President Rivera is a first-generation college graduate. He earned a Bachelor of Science degree from Penn State University and a Master degree from Cheyney University.

Prior to becoming president of Thaddeus Stevens College, Rivera served as the Secretary of the Pennsylvania Department of Education. He was appointed by Governor Wolf and confirmed unanimously by the state Senate in 2015.

President Rivera has also served as the superintendent of the School District of Lancaster, as well as a classroom teacher, assistant principal, principal, and executive director for the School District of Philadelphia.