Graphic Communications Instructor Uses Design Expertise to Create "Living" Works of Art
Megan Zettlemoyer, Graphic Communications & Printing Technology Instructor, has utilized her design expertise to discover new techniques in the traditional medium of ink. The exhibition, titled "Megan Zettlemoyer: Living Ink", uses ink from locally foraged ingredients and materials. The series is currently on display through March 27 at Curio. Gallery & Creative Supply.
"I've always found that a solid foundation in design allows me to be so flexible in where my career has taken me. I love being able to incorporate these lessons back into the classroom at Thaddeus Stevens College. Flexibility is key in our every-changing society and the stronger foundation you have, the more flexible you can be."
Graphic communications is a creative, diverse industry that includes the conception and production of materials meant for communication. For students considering a career in graphic communications, Zettlemoyer says that her background in design has allowed for great flexibility within her career. "I chose to go to school for graphic design so I would have a viable career option as well as a creative outlet when I graduated," she says.
About the series:
"In each piece of this series I have paired a structured element with sporadic, energetic bursts which symbolize the balance of serenity in nature with the often frenetic bustle of the city. Demonstrating the multiple facets of humanity's relationship with nature, expressed by the overall connectedness with a slight underlying tension, is a central theme of each piece."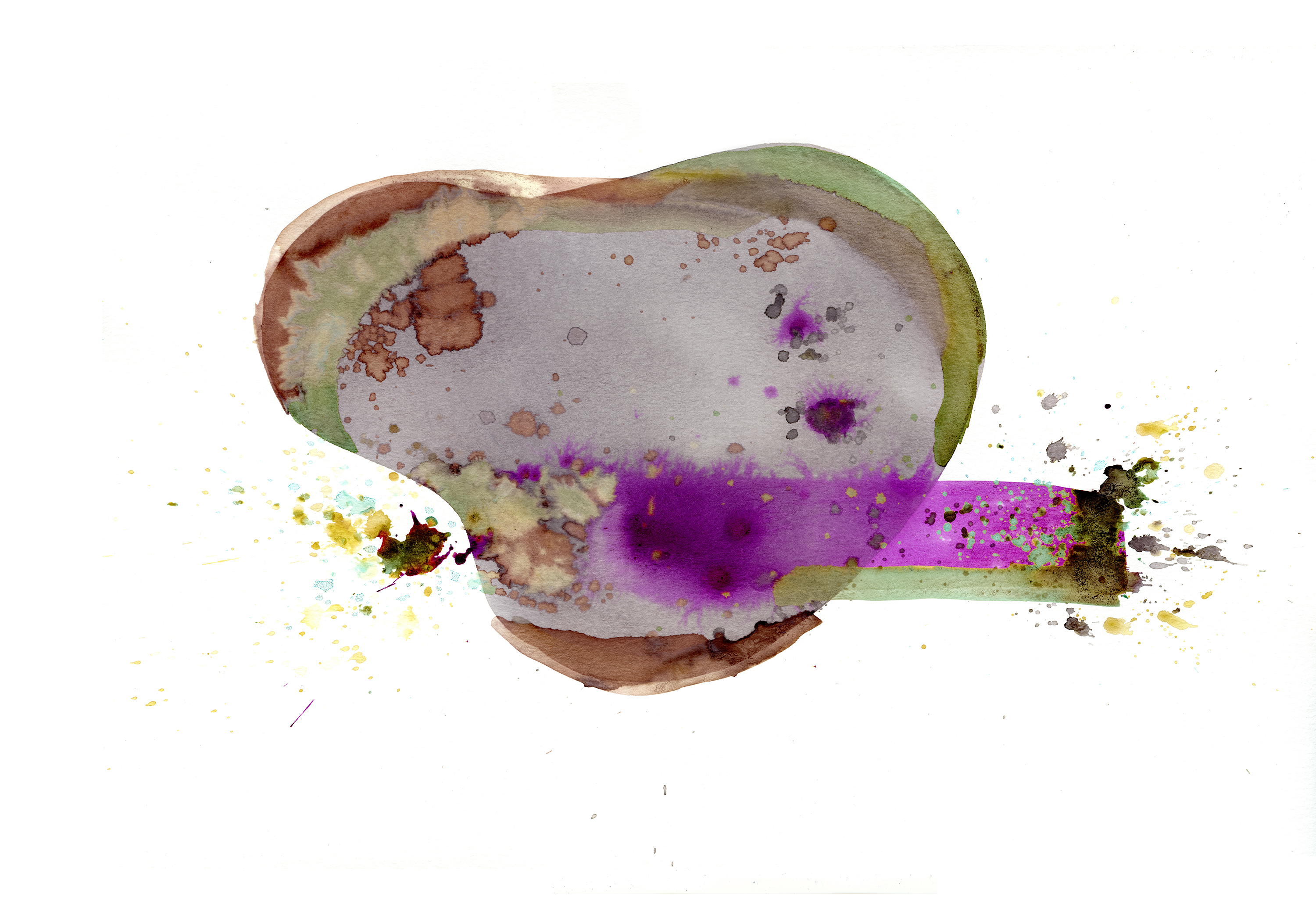 The importance of making her ink from locally foraged ingredients and materials has played a critical role in their creation. Each of the inks utilized in these paintings has been personally created from scratch. After researching the necessary elements for the desired color palette, the process of exploring and foraging for the raw ingredients begins. Seasonally available natural resources such as berries, nuts, seeds, burnt sticks, pine cones, flowers and spices typically serve as the base recipe. As the inks are created fresh and contain only natural preservatives, some of them have shown, over time, to alter in appearance when exposed to air and/or light. As some of the raw ingredients are naturally more acidic it is possible that they could eventually break down the paper. All of these conditions are part of the ongoing exploration of the ink-making techniques and are considered to be equally essential to creating each unique "living" piece of art. This acceptance of change in the painting also speaks metaphorically to the relationship we have with the world around us. People change, conditions strengthen over time where others break down. Seeking out the right ingredient, looking for that one last piece needed for the recipe is a search we are all undertaking each day.
---
The graphic communications and printing technology program at Thaddeus Stevens College gives students a solid understanding of the creative and printing processes of the graphics industry. Learn more about the Graphic Communications and Printing Technology program here.