PUC Chairman Brown Brings #UtilityCareers Campaign to Lancaster
LANCASTER – Pennsylvania Public Utility Commission (PUC) Chairman Gladys M. Brown today joined with leaders from the Thaddeus Stevens College of Technology, in Lancaster, along with utilities from across the state, to highlight the importance and impact of educating the next generation of utility workers.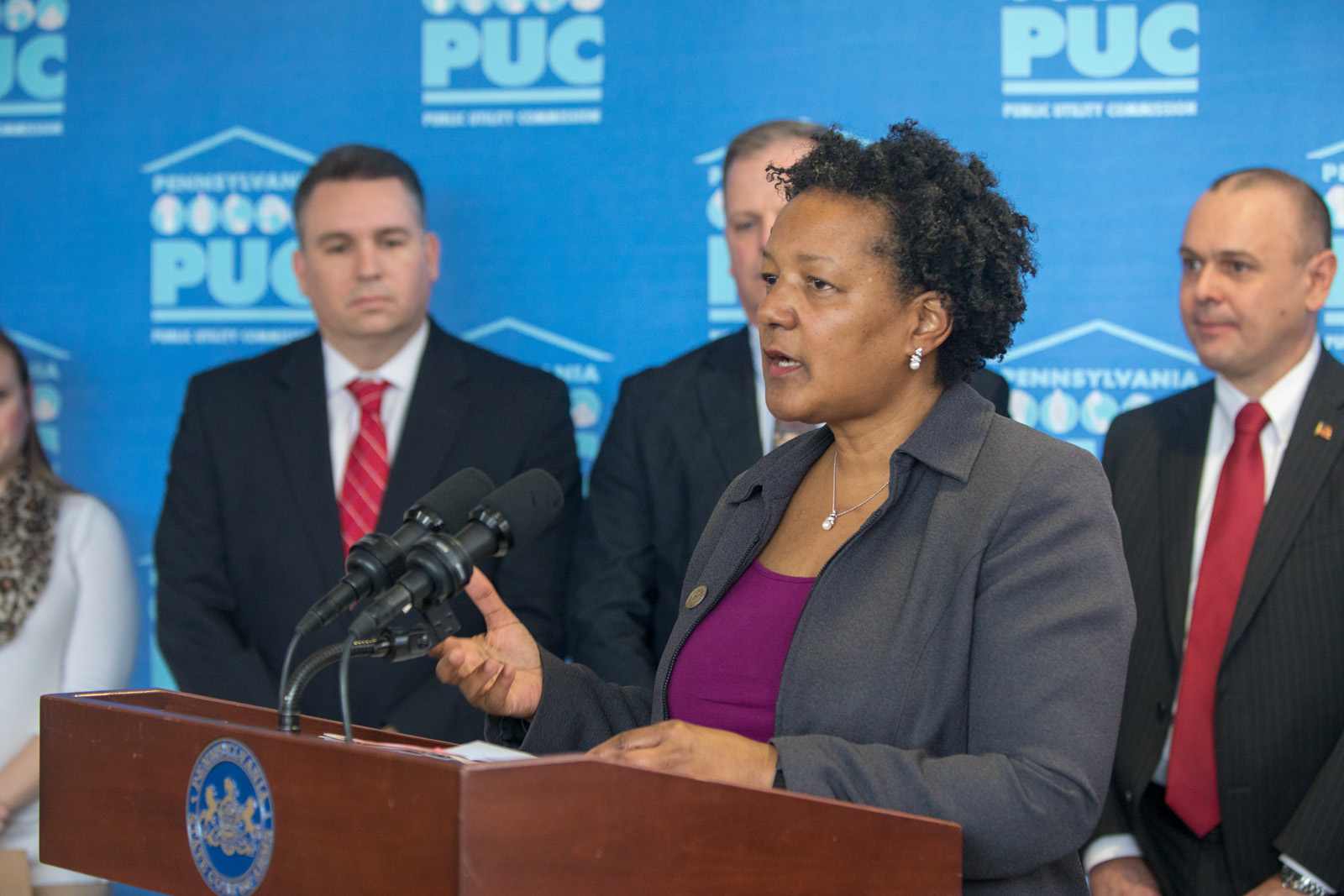 Chairman Gladys M. Brown
"Pennsylvania's utilities represent tens-of-thousands of family supporting and community-oriented jobs, with growth and training opportunities, good wages, and the satisfaction of knowing that you are serving your local communities," said Chairman Brown. "Additionally, these are systems and people we depend upon to keep our communities safe and healthy, and it is important that we do what we can to ensure that our utilities have the skilled and diverse personnel they need to meet the needs of today and tomorrow."
Chairman Brown was joined by leaders, students and faculty from the college, along with numerous utilities, to encourage talented individuals of all ages and backgrounds to consider careers in the utility sector – which has a strong and growing demand for a new generation of employees. Joining today's event were leaders from UGI Utilities, Metropolitan Edison Company, PECO Energy Company, Pennsylvania American Water, PPL Electric Utilities, Columbia Gas of Pennsylvania and Duquesne Light Company, along with PJM Interconnection, the region's power transmission organization.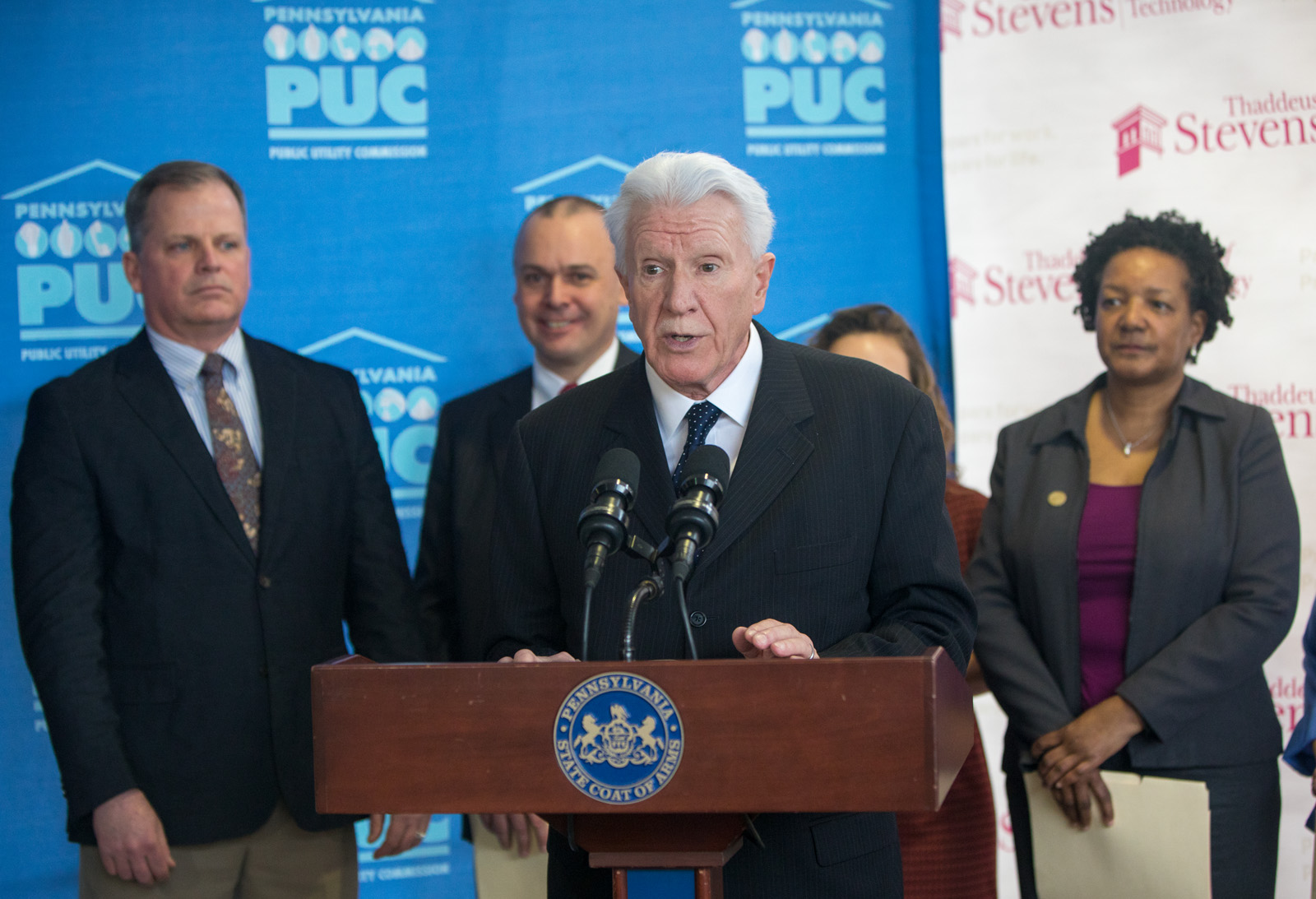 Thaddeus Stevens College of Technology president William Griscom
"Thaddeus Stevens has been providing graduates to the utility industry since the College's inception over a hundred years ago," said President William Griscom. "Here, students can acquire the skills they need for good, family-sustaining careers where they will provide critical public service. We must ensure that these careers do not hide in plain sight from the next generation of workers."
Chairman Brown also noted that there is a strong anticipated need for skilled utility workers across the country, driven by a combination of factors – including an aging current workforce as well as the need to support new systems and technologies.
"Utility jobs and skills that will remain in demand well into the future, with opportunities growing faster and wages substantially higher than statewide averages," noted Chairman Brown. "In fact, the average utility wage in Pennsylvania is just over $93,000 per year, which is nearly twice the average wage for all industries – and the number of utility jobs has increased by more than 11 percent over the past five years, which is five times the job growth for all industries."
Chairwman Gladys visited various labs around Campus
The statewide and national appetite for utility skills includes:
Engineers;
Field operations, including the people who maintain existing systems and build-out new systems;
Plant operators, who keep the energy and water flowing to our communities; and,
Various technical positions, including relatively new areas of concern, like CyberSecurity.
"Nationally, utilities are expected to hire an additional 70,000 workers by 2020, and growth in the energy sector along is expected to create an estimated 1.5 million jobs by 2030," said Chairman Brown. "These opportunities are all around us, but they may be overlooked by students and other job-seekers either unaware of or unclear about the many utility career options available to them."
Utilities from across the state added their perspective regarding workforce development:
"Today's event highlights the challenge confronting UGI Utilities every day: how will we identify qualified women and men necessary to safely and reliably deliver energy to our customers and the many communities we serve," said Bob Beard, president and CEO of UGI Utilities. "UGI has recognized we must continue to attract qualified workers for our utility operations and working with Thaddeus Stevens is one way we are addressing this need."
"Our lineworker workforce throughout FirstEnergy continues to age. It takes years of specialized training and on-the-job training to become a skilled lineworker. We are always looking for people who enjoy working up in the air 40 feet and outdoors in all kinds of weather," said Ed Shuttleworth, regional president, Met-Ed.
"We are always looking for talented people at all levels of experience to help us meet the new challenges of the 21st century electricity delivery business, while continuing to provide safe, affordable, reliable electric delivery to our customers," said Stephanie Raymond, vice president-distribution operations for PPL Electric Utilities. "We support workforce development initiatives and appreciate the PUC's effort to promote the rewarding careers available in our industry."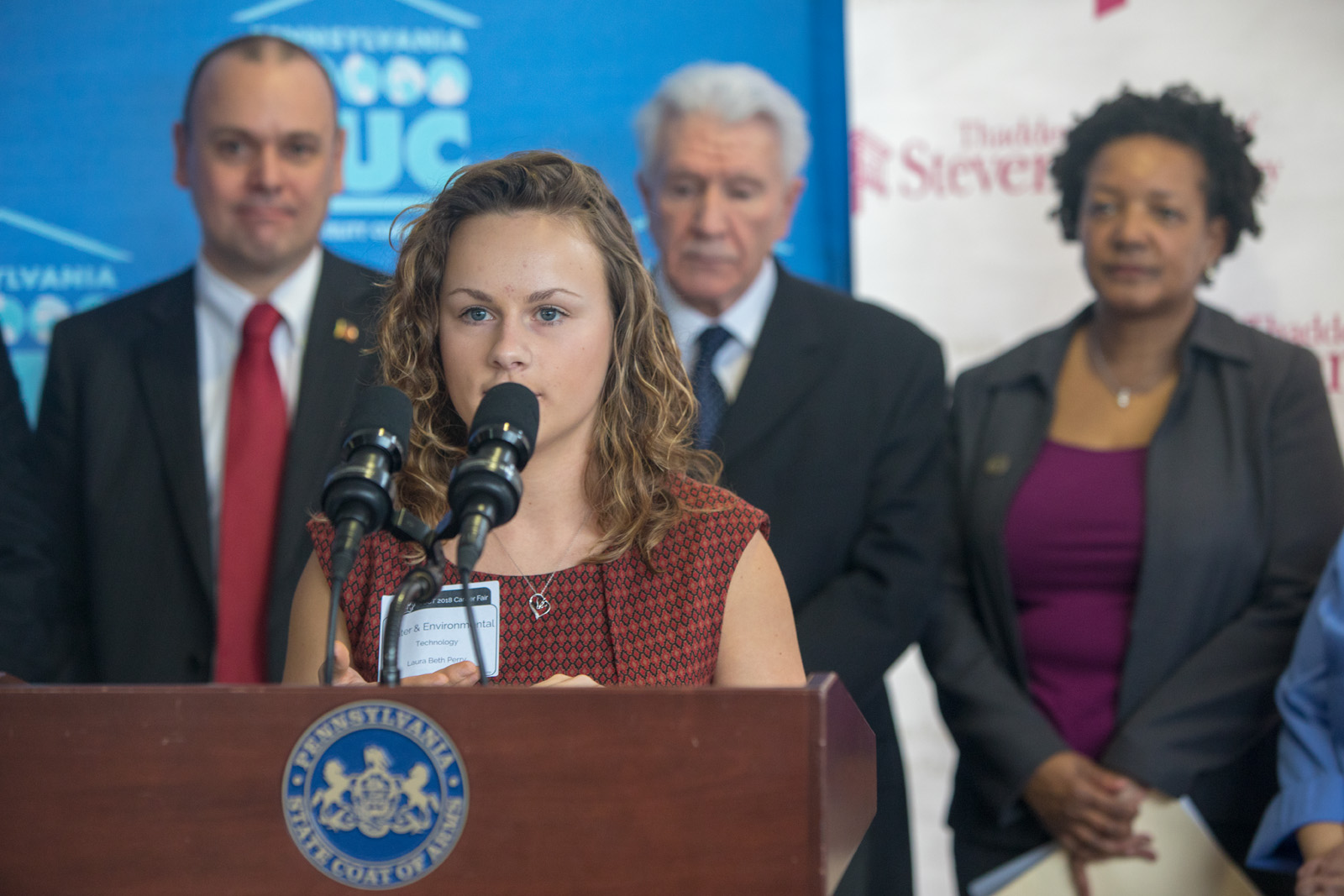 TSCT Water & Environment student Laura Perry explains why she loves her major and the opportunities that comes with it
"Working in the water and wastewater industry is more than a job; it is a calling because we are responsible for protecting public health and preserving our most precious natural resource," said Christina Krommes, talent acquisition lead for Pennsylvania American Water. "We need the next generation of employees who are looking to develop long-term careers where they can share this passion."
"Columbia Gas is honored to join with the PUC and our fellow utilities to focus on the future of our industry," said Mike Huwar, president of Columbia Gas of Pennsylvania. "In addition to being part of a growing field, a utility career is a prime example of dedication to the community--working locally and providing a valuable service to our neighbors."
"It's an exciting time to be involved in the energy industry, as it is quickly evolving to meet new challenges," said Nora C. Swimm, Sr. vice president of corporate client services at PJM. "The future of the grid will be shaped by the young talent entering our workforce, who will find that whatever their interests, there's a place to pursue them in this dynamic industry."
PUC #UtilityCareers Campaign
Today's event at Thaddeus Stevens College, held in conjunction with the college's annual job fair, is part of a broader collaborate effort by the PUC, public utilities and educational institutions to increase public awareness about career opportunities in the utility sector. The PUC is working with institutions and agencies statewide to spotlighting the options available for young people still considering careers and for those searching for new opportunities.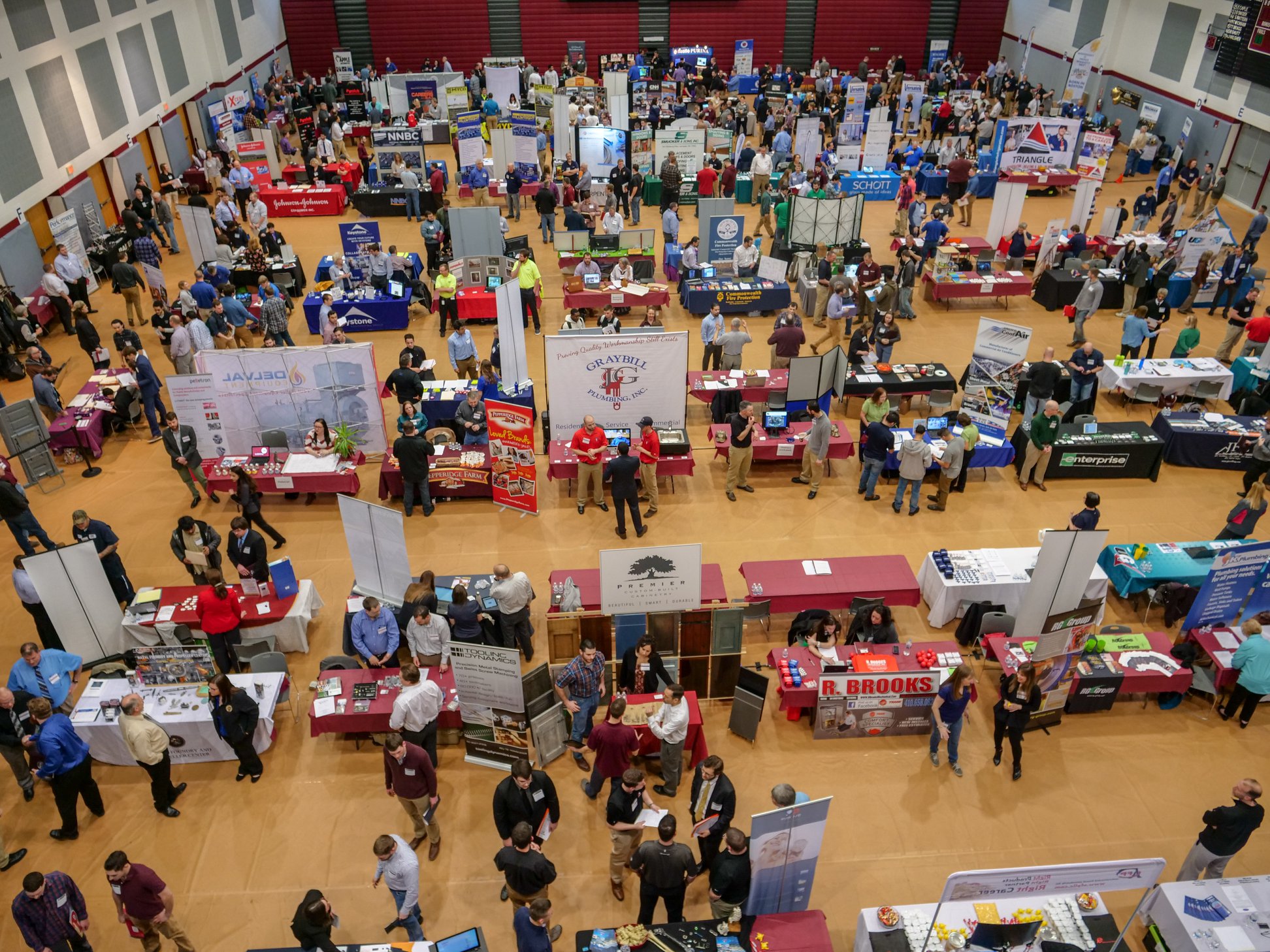 TSCT held the 27th Annual Career Fair in the MAC Gym
"This is an issue that goes far beyond one agency or utility. It's an issue that has the potential to impact us all, in terms of the reliability and cost of utility service," said Chairman Brown. "These are systems and people we depend upon to keep our communities safe and healthy, and it is important that we do what we can to ensure that our utilities have the skilled personnel they need to meet the needs of today and tomorrow."
As part of the effort to increase access to information, the PUC has established an enhanced LinkedIn site to highlight information about job opportunities, not only at the Commission, but also the greater spectrum of utility jobs across the state.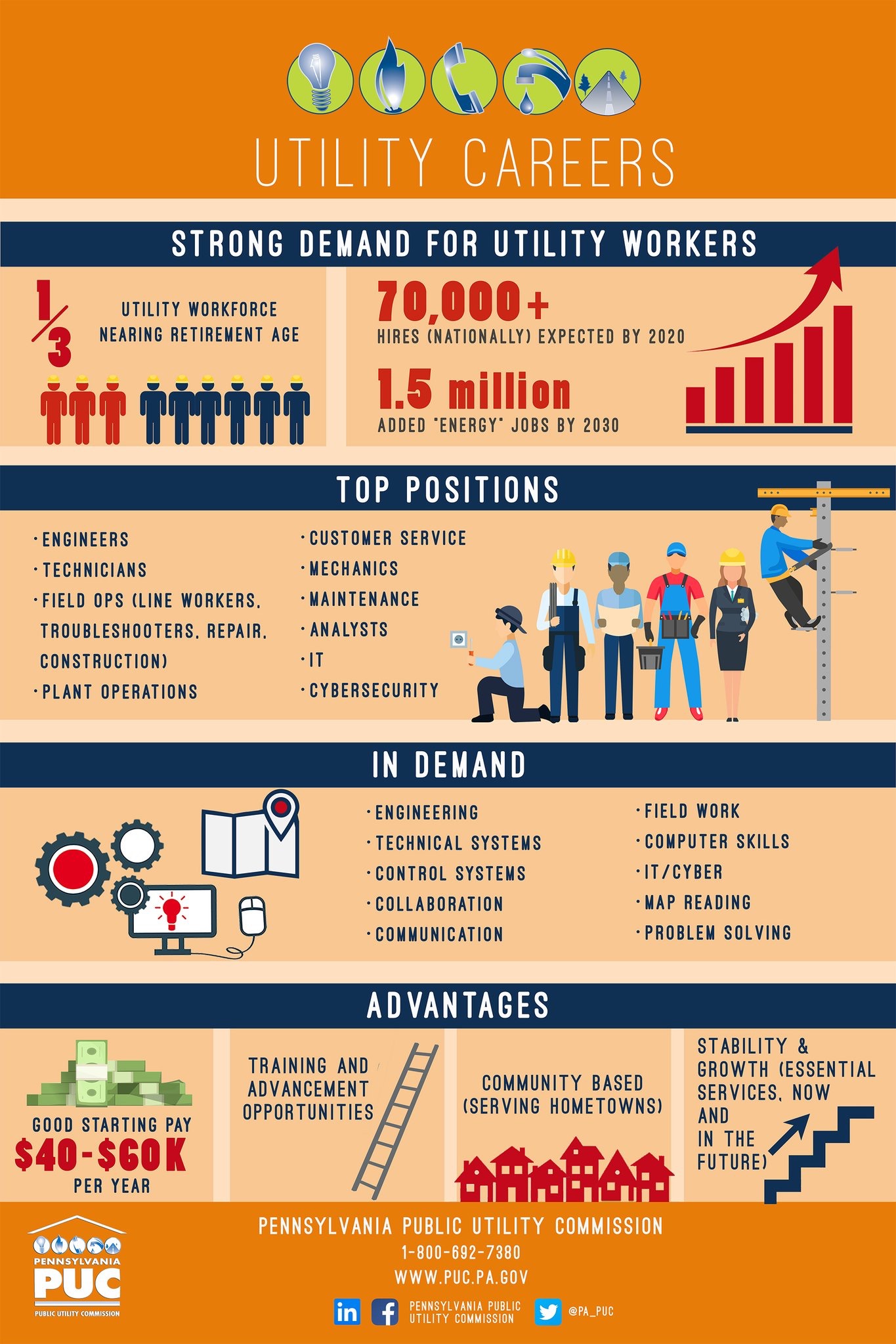 The Pennsylvania Public Utility Commission balances the needs of consumers and utilities; ensures safe and reliable utility service at reasonable rates; protects the public interest; educates consumers to make independent and informed utility choices; furthers economic development; and fosters new technologies and competitive markets in an environmentally sound manner.
For recent news releases and video of select Commission proceedings or more information about the PUC, visit our website at www.puc.pa.gov. Follow the PUC on Twitter – @PA_PUC for all things utility. "Like" Pennsylvania Public Utility Commission on Facebook for easy access to information on utility issues.