Read the Spring 2022 Edition of The Tower Magazine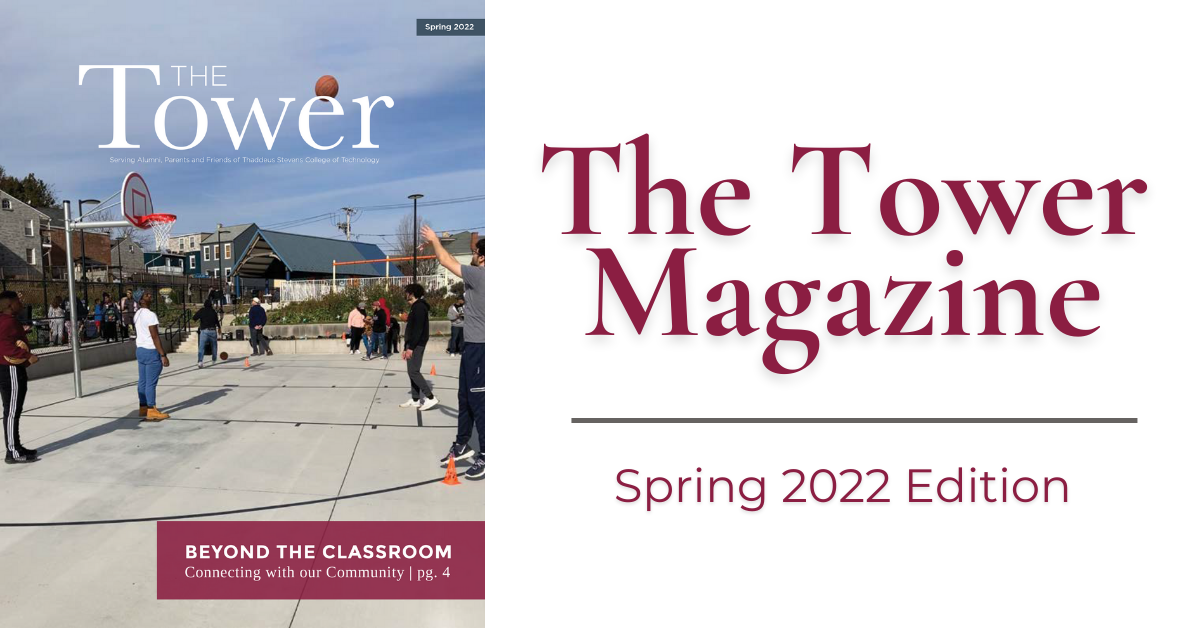 The latest edition of The Tower Magazine is now available on our digital newsstand. Here's a sneak preview of what's inside our Spring 2022 issue:
Message from President Pedro Rivera
"As the dark days of winter melt into spring, Thaddeus Stevens College is buzzing with excitement. The Class of 2022 will soon walk across the commencement stage. Some of our graduates will enter the workforce, starting careers in their fields of study. Other graduates may continue their education, taking advantage of our articulation agreements with colleges and universities like Drexel, or Millersville..."
Read the rest of his message on page 3.
Cover Story: Beyond the Classroom - Connecting with our Community
"We understand the value of a well-rounded college experience here at Thaddeus Stevens College of Technology. While their time with us is brief by design, our students make a long-lasting impact within our college community and within our surrounding communities..."
Read the entire story beginning on page 4.
Meet Dr. Antonio Jackson
The College recently welcomed Dr. Antonio Jackson to the position of Vice President, Academic Affairs. In this role, Dr. Jackson is the driving force behind providing the strategic direction and oversight to the College's academic programs, including its current associate degree programs, and the new Workforce and Economic Development Center.
Learn more about Dr. Jackson on page 6.
Thaddeus Stevens Statue Dedicated in Gettysburg
A statue of Thaddeus Stevens, the most powerful congressman during and after the Civil War, was dedicated in front of the Adams County Courthouse in Gettysburg on April 2. It is only the second statue of Stevens to be erected despite his importance to American history.
Read the full story and meet the artist on page 8.
Photo of the Day
The College's Marketing & Communications Office recently launched a Photo of the Day initiative. Each weekday while classes are in session, a Thaddeus Stevens College-themed photo will be posted on our official Instagram account (@ThaddeusStevensCollege).
View some of the photos and find out how you can submit a photo for consideration on page 13.