Their Time to Shine
Catalyst (Pennsylvania Chamber of Business & Industry)- Last year, the PA Chamber Educational Foundation commissioned a study about the struggles facing Pennsylvania employers in terms of the quality of their workforce and the job candidates pool. The results showed what we'd long heard anecdotally — business owners in a position to hire were having a difficult time finding qualified job candidates with the skills necessary to fill these roles. We knew that closing this jobs skills gap wasn't a problem that the business community could handle singularly, and that bringing attention to it meant doing something big. In this case, 'big' meant hosting a Workforce Summit last year that featured Executive Producer and Show Host Mike Rowe, best known as "the dirtiest man on TV" from the hit TV series Dirty Jobs, as the keynote speaker.
As CEO of the mikeroweWORKS Foundation, Rowe kicked off his 'Profoundly Disconnected' campaign back in 2008 to dispel the myth that a four-year college degree is the only path to achieve success. The mikeroweWORKS Foundation has awarded or helped facilitate the awarding of, more than $5 million in education dollars to students attending trade schools across the country. At our spring 2016 Workforce Summit, Rowe stressed to a rapt audience of students, parents, educators and business leaders that success isn't just limited to those with a college education. In fact, if you've got the combination of a strong work ethic, and an eagerness to learn the skills necessary to land a good paying job, you too can head down the path to a successful — and fulfilling — career.
The summit was the kickoff to our "Start the Conversation HERE" initiative, which became a cornerstone of the PA Chamber's mission as we embarked on our second century of operation. The summit also marked the beginning of a unique relationship with the mikeroweWORKS Foundation. The PA Chamber worked with the Commonwealth's business community to help support the mikeroweWORKS Foundation's Work Ethic Scholarship Program, which provides scholarships to people pursuing a career in the skilled trades. Our goal was to help Pennsylvania students attend Pennsylvania trade schools.
The PA Chamber Education Foundation donated approximately $77,000 towards the 2017 Work Ethic Scholarship Program; and by the time the program closed, the mikeroweWORKS Foundation awarded more than $135,000 to 47 deserving Pennsylvania recipients who expressed a real desire to learn a trade and didn't hesitate to sign the mikeroweWORKS Foundation's S.W.E.A.T. ("Skills and Work Ethic Aren't Taboo") Pledge — basically saying they'll commit to work hard and smart.
For the full story, read it in the Fall 2017 Issue of The Catalyst: Building a Stronger Workforce How Pennsylvania Communities are Partnering to Prepare for Future Workforce Needs.
Scholar snapshot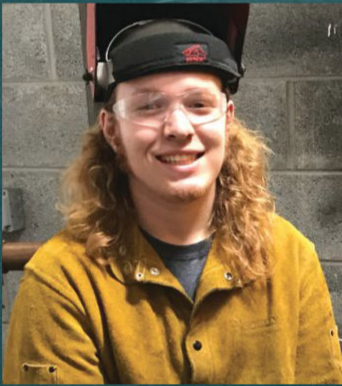 Cole Smith
Age: 20
Field of Study: Welding Technology
Cole Smith first heard of the Work Ethic Scholarship from his Dad, who was browsing online and came across it. "I decided to apply for it because I really liked that it was based on having a strong work ethic — which is something I take pride in myself for having," he said. Cole had heard about welding from a friend, who— while discussing the lack of skilled labor in the state — informed him of the field and its absence of young workers. "After doing some research, I learned that my local community college offered welding classes, so I tried it out for a semester and loved it," he added. After a year taking those classes, and spending six months doing hands on training, Cole chose Thaddeus Stevens — an accredited two-year technical college — to hone his craft. Upon graduation, Cole hopes to jump head first into the field. "I am very much looking forward to my future in welding, whether it's working on the pipeline, at a shipyard, or opening my own shop," he said.
Click here for the full list of the 2017 WORK ETHIC SCHOLARSHIP RECIPIENTS