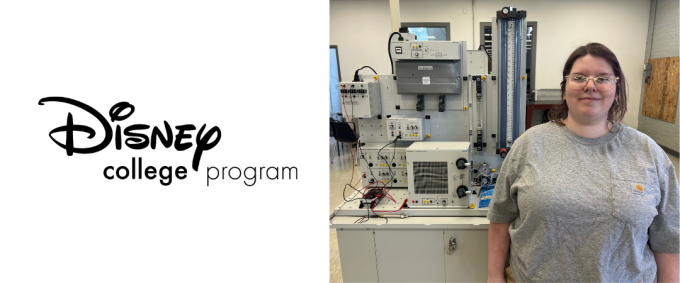 We recently caught up with Megan Wywadis, a second-year Electro-Mechanical Technology program major graduating in May who was just accepted into the Disney College Program. Megan is the first Thaddeus Stevens College of Technology student to be accepted into this exclusive program!
Amusement parks have been a part of Megan's life since childhood – her father maintained roller coasters at Knoebels in Elysburg, PA. While growing up, she worked within the park and eventually shadowed her father on the job while a high school student. "It was at that point that I knew I wanted to make this my career".
Megan set out to learn as much as she could to prepare for the career of her dreams. She took construction courses at her local career and technical education center, then applied for and enrolled in the college's Electrical Construction & Maintenance certificate program. She continued her education by enrolling in the Electro-Mechanical Technology program.
During the College Program, Megan will have the opportunity to work behind the scenes at Disney World, applying her skills while learning how the rides are programmed and run. She'll participate in leadership and professional development classes, and will have opportunities to learn new languages, including sign language. She'll live and work with people from all over the world, too.
Being accepted into Disney's college program is an incredible step forward for Megan on the path to her dream career. Ultimately, her goal is to create the rides that bring so much joy to families as they make lots of magical memories together at Disney World.
Megan's father is her biggest fan – and also the source of her inspiration. "I've grown up watching him work in this industry. I want to experience the same joy he does each day, and he wants me to reach for the stars."