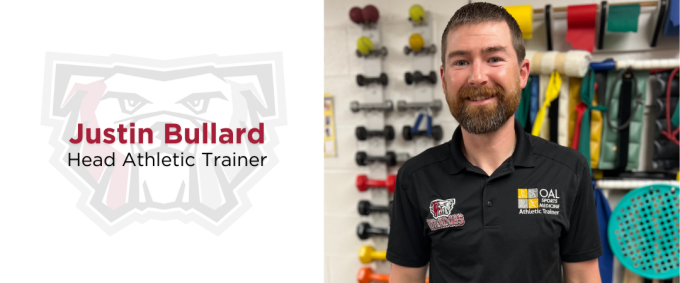 This month and every month, we're proud to celebrate and recognize our head athletic trainer, Justin Bullard, MS, LAT, ATC, CSCS.
For the past seven years, Bullard has supported the daily needs of our athletes, from daily practice and competition preparation, to injury evaluation, to short and long-term rehab programs, and more. He also advises our athletes on various strength and conditioning programs, as well as nutrition.
"I love being able to take an athlete from a serious injury and get them back on the field, court, or mat, and watch them be successful," said Bullard. "Being an athlete myself and super competitive, I appreciate their drive to get back out there, and I do everything in my power to keep them out there."
Bullard appreciates the opportunity to build meaningful relationships with the college's athletes, and values the opportunity to truly have an impact on the trajectory of their lives.
An injury that sidelined him in high school ultimately led Bullard to pursue a career in athletic training. "I had a significant shoulder injury playing football in high school, which created an opportunity for me to interact with an athletic trainer for the first time," said Bullard. "I thought it was really interesting that someone knew exactly what was wrong after just a few tests on the sideline. I always knew I wanted to do something to help people, so this career was the perfect fit, being able to help athletes succeed."
Bullard also serves as the Athletic Training Supervisor at Orthopedic Associates of Lancaster.
National Athletic Training Month is held every March in order to spread awareness about the important work of athletic trainers.