Class of 2021 Capstone Project Highlight: Fabrication & Fire Pits
At Thaddeus Stevens College, hands-on learning is key in supporting student success. Each year, sophomore students take their classroom experience and apply it to challenging, real-world projects. Senior capstone projects provide valuable, hands-on experience to graduating students. Throughout this year and as the end of the semester approaches, students and instructors across campus have been working diligently to ensure that graduates are able to refine their abilities and skills in preparation for the workforce.
The 2020-2021 academic year has been one unlike any other, presenting many unique challenges due to the pandemic. Despite this, students in the Metals Fabrication and Welding Technology program have completed their senior capstone fire pit projects with expertise, pride and passion for their trade.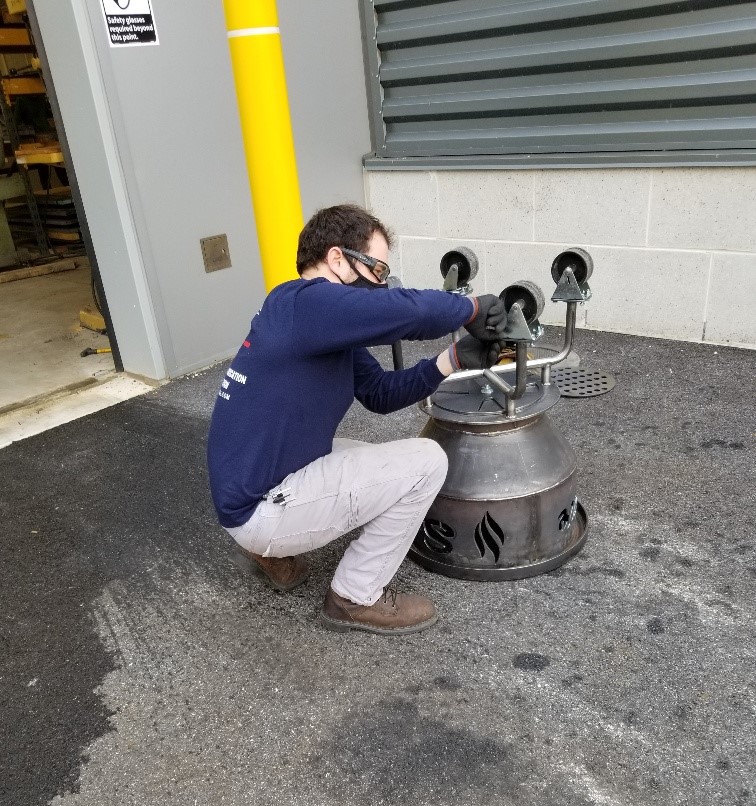 "Many of the students came to the lab early, stayed late and even work Saturdays, taking advantage of extra lab time provided by the faculty," said Steven Hower, Metals Fabrication and Welding Assistant Professor. "All of our students are to be commended for their hard work and diligence to get the project completed in the face of adversity."
The projects were created from a given set of drawings and specifications with added individual artistic and functional designs customized by students. Each fire pit was fabricated from ¼" carbon steel plate and ¾" carbon steel pipe.
"Even though we were short on time this semester we were able to finish the capstone project. We were able to accomplish this feat with the direction of our instructor Mr. Hower and the willingness of everyone in the class to put forth the time and effort it took to get this far," said Justin F., a sophomore Metals Fabrication and Welding Technology student. "I am thankful for this project, it taught me a lot about working with metal and included multiple welding processes that we will use in our careers. It was also nice to be able to build an aesthetic and durable fire pit that we were able to take home and use after we put so much effort into it."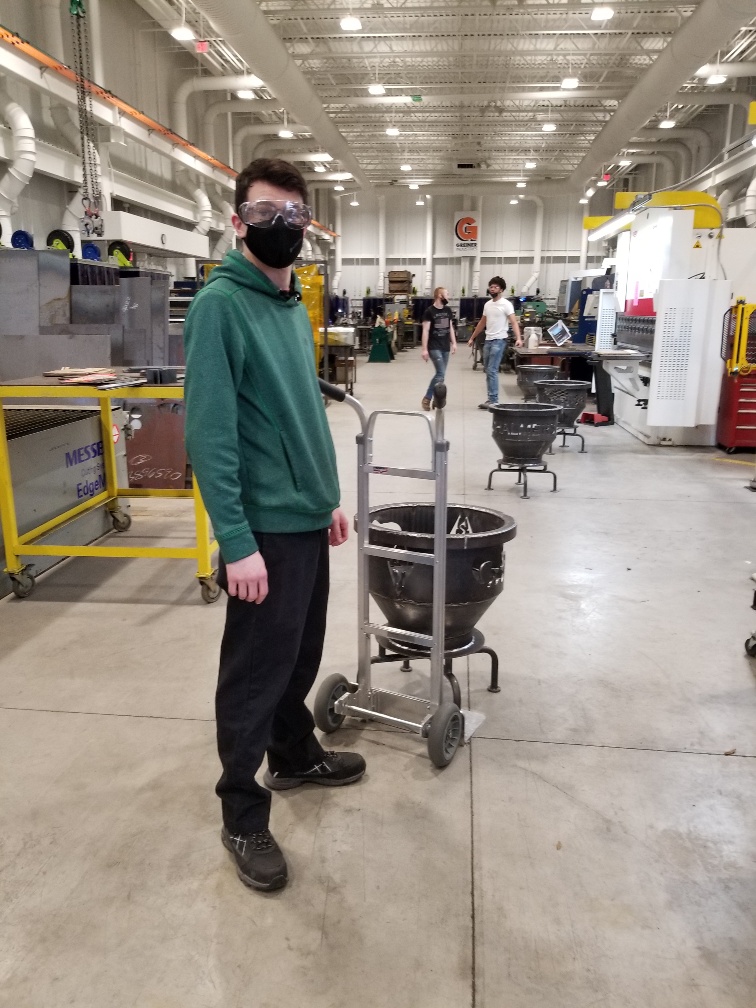 The Process
Design:
Students calculate correct dimensional and cut size information as specified in the drawings. Designs of the project are completed using AutoCAD and nesting software.
Cutting:
Electronic files to cut the ¼" thick carbon steel plates are wirelessly sent to our Messer CNC – High definition cutting system
Drill and Tapping:
The air inlet damper is drilled on the vertical mill. Internal threads are hand tapped, locking the threaded fastener in place during operation.
Forming:
The geometric shapes are then formed using a 100 ton Wysong hydraulic press brake and hydraulic pyramid plate bending rolls. Accuracy in forming will directly affect the success of the project.
Fitting:
After forming the students fit the parts, tack welding to making sure dimensional tolerances are maintained while all the seams remain flush, square and true.
Pipe Stand:
The pipe bracketry sub assembly to hold the fire pit is fabricated from ¾" carbon steel pipe.
After calculations, forming of the pipe is done on our Ercolina hydraulic pipe bending equipment.
Coping the intersecting pipe joints are done in the vertical mill using an end mill cutter.
Welding Processes:
Welding the Fire Pit project was completed with four welding processes:
Fitting was done using the Gas Metal Arc Welding process
The interior of the Fire Pit was completed with the Shielded Metal Arc Welding process using the 7018 Electrode
The exterior of the project was completed using the Flux Core Arc Welding process (Dual Shield)
Pipe joints were completed using the Gas Tungsten Arc Welding process.
While discussing the project and process, Student Zachary R. added, "This project was fun because it incorporated all the methods of fabrication and welding that we learned up to that point. It was also challenging because each calculation, cut, bend, and roll had to be absolutely correct or it could turn into a big problem later in the project."
Congratulations to the students of the Metals Fabrication and Welding Technology program on completion of their capstone projects and for a job well done!
Learn more about the Metals Fabrication & Welding Technology program or begin your application.