Combating COVID-19 with Hands-On Experience
Justin Popp, '21, assists in developing state-of-the-art equipment to aid in the battle against COVID-19, while learning valuable, real-life skills.
"I've had a high level of satisfaction working on these decontamination units, knowing that I was providing a way to potentially save lives and make a difference during these challenging times. It was a difficult choice to go back to school later in my life, but having the opportunity to help others and gain experience in the in-demand field of automation confirmed I am on the career path I was meant to be on."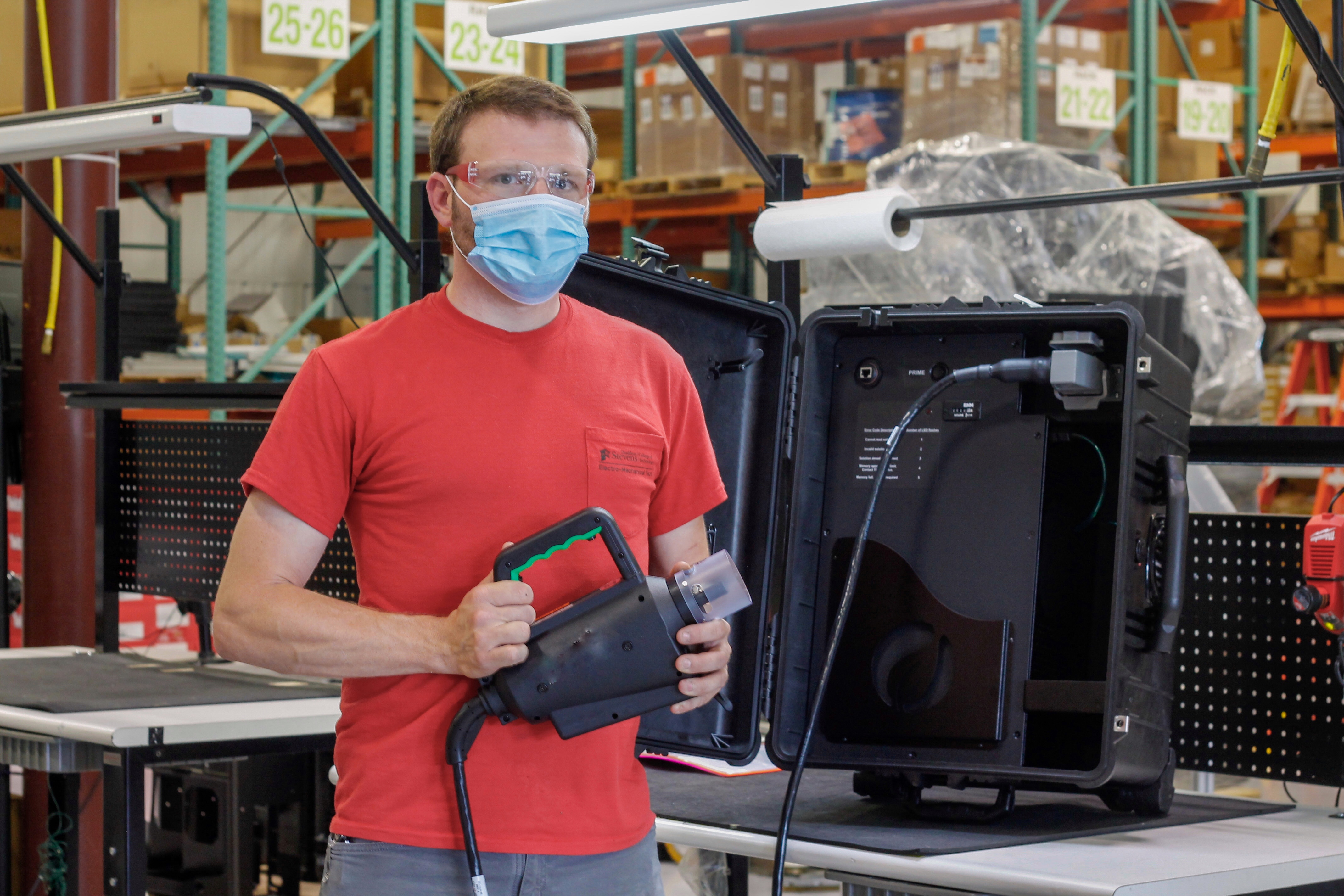 In March 2020, while the world faced a global pandemic, one Electro-Mechanical Technology student had the opportunity to gain hands-on experience in developing a product to keep communities safe. These products are called decontamination units. Decontamination units are portable, automatic, high-speed indoor surface disinfection and decontamination fogging systems. They are designed to clean and sanitize healthcare buildings, educational facilities, commercial businesses and more. After a surge in sales for decontamination units due to the onset of COVID-19, RG group hired additional Engineering Technicians like Justin to help with the demand.
As an Engineering Technician for the RG Group, Justin's primary tasks were to perform the mechanical assembly and electrical wiring of the decontamination units. Eventually, as his skills progressed, Justin was able to train other temporary technicians to build and wire the units.
"RG Group is a diverse company that specializes in fluid power systems and automation/robotics integration. They can also handle custom manufacturing, which is what I was mostly involved with. They've had a contract for several years with a company that sells portable decontamination machines," Justin explained. "These machines are commonly used in hospitals, pharmaceutical companies, schools, and other businesses. They use a special ionization method to create a mist of a highly effective solution that kills germs and viruses [including COVID-19]."
Through this experience, Justin has gained satisfaction in his work and expertise in his field. Prior to the internship, Justin says he had "weak wiring and electrical skills"; however, after time and practice, these challenging areas have developed into some of his strongest abilities. Through this opportunity, Justin has gained experience reading electrical and mechanical schematics, troubleshooting issues, and improving management skills through training temp workers. "One thing I am particularly proud of is the fact I was able to help develop the current wiring methods and layout of one of our models," he says.
For Justin, this incredible opportunity to work with a leading company in the fluid power system industry was extremely rewarding, as he was able to gain real-world skills and played a role in fighting against COVID-19. When looking back at his experience, he says that it has been "a very interesting internship and a great story to tell".
Justin will be graduating this spring semester and moving forward in his career in the Electro-Mechanical field.