The Evolution of Thaddeus Stevens College
Many people know the history of the man, Thaddeus Stevens, and his legacy as it relates to Thaddeus Stevens College of Technology. I've written about him in past issues of The Tower, but I ask you to indulge me in a brief recap.
Thaddeus Stevens was born in Danville, Vermont on April 4, 1792. The Stevens family lived in abject poverty on a very small farm, on which his mother worked day and night. The family was abandoned by the children's father, and to further challenge young Thaddeus, he was born with a "club foot." Today, the condition would be addressed with physical therapy or surgery, but in the late 1700's, it was not treated, and Thaddeus Stevens walked with a permanent limp. His mother knew her son's only chance at escaping poverty was through education. With her support and determination, Thaddeus Stevens did transform his life through an education, graduating from Dartmouth College, opening a law practice, and eventually serving in Congress.
The role that education played in Thaddeus Stevens' transformation from poverty to a leader who shaped the history of our country is the core tenet of Thaddeus Stevens College of Technology.
Stevens College was originally founded as a public institution for orphans of Pennsylvania who were willing to learn a trade, combined with an academic education. It started as a three-year high school at the bequest of the will of Thaddeus Stevens, opening its doors nearly 35 years after his passing. In 1971, the College converted from its traditional three-year program to a two-year program. At that time, the college began work toward developing a curriculum that would result in degree programs, and initiated the process to seek Middle States Accreditation. Each year Stevens continues to reach out to quite a few elementary schools to stimulate their interest as well as their parents that Stevens college offers 22 majors, several short-term certificate programs and a host of programs purposed for students in kindergarten through 12th grade to spark their interest at an early age that a college education is certainly available to them if they finish school with qualifying grades. We encourage them to focus on academics as they matriculate through school.
"I do not exaggerate when I say that I owe the successes of my life to what Thaddeus Stevens College gave me."
I was a member of the Thaddeus Stevens class of 1960, and I do not exaggerate when I say that I owe the successes of my life to what Thaddeus Stevens College gave me. I must say courtesy and respect was illustrated in one small way simply by meeting the requirement that all students must wear a tie and jacket to dinner. I learned a lot in communal living in making friendships with students of all nationalities and from every corner of Pennsylvania. Living together as a group is a meaningful experience in itself, working together as a team, sharing responsibilities along with others in the dorm and how to work as a team through class projects. I learned that breaking the rules has consequences, and that respect for others is paramount to achieving a life well lived. I learned what it felt like to be a part of something important. And I earned an education and a trade that has sustained my family through the years. I am proud to say that I have four grandsons who have graduated from Thaddeus Stevens College of Technology. They each have their story about why they chose Stevens College, and of the role it plays in their life well lived.
Through the more than 62 years that I have been in some way affiliated with Thaddeus Stevens College, I have been witness to the evolution and growth of this institution. The positive reputation Stevens has earned through their consistency in delivering high quality employable technical majors year after year continues to be a magnet in bringing an abundance of students to Stevens seeking the Stevens experience. For instance our 2019 fall enrollment will escalate our student body to a little over 1,300. But one constant is the impact Stevens College has had on the lives of countless men and women who have passed through its doors. Graduates of Thaddeus Stevens College directly contribute to the evolution and growing success of industry across the Commonwealth of Pennsylvania, and in many cases throughout the country. Many graduates have started their own companies, and now hire fellow alumni, supporting our commitment to a family sustaining career for our graduates.
Thaddeus Stevens College is foundational to sustaining our mission to provide a technical college education regardless of an individual's financial circumstances, that will result in a job at a family-sustaining wage. By doing so, we fulfill the second part of our mission, supporting the critical technical workforce needs of the Commonwealth of Pennsylvania.
The evolution of Thaddeus Stevens College as we note was borne from the vision of a statesman born in late 1700's to provide free education to orphans in Pennsylvania, to a nationally-ranked technical college is the culmination of decades of dedication to our mission – by our faculty, students, industry partners, outstanding administrative leadership and a supporting Governor of the Commonwealth of Pennsylvania, and our alumni.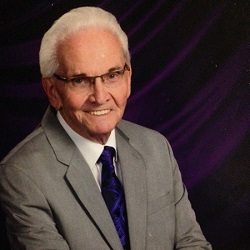 By Alex B. Munro
Executive Director, Advancement and Alumni Relations