Career Services
Our Mission
The Career Center is here to educate and to serve the students and graduates of Thaddeus Stevens College of Technology in the career education, planning, and developmental processes.
In support of the mission of the college, the Career Center functions as a vital component in the total educational experience of students, primarily in the development, evaluation, initiation, and implementation of career plans and opportunities. Career Center services and resources provide assistance to students in the cultivation and enhancement of skills to master job search techniques and strategies, and research employment opportunities. The Career Center provides effective and efficient service to employers in recruitment programs and activities.
---
Our Services
Resume writing
Interviewing skills/mock interviewing

(via Zoom during the fall semester)

Soft "power/employability" skills
Social media management
Professional presentation
On-campus company information sessions

(via Zoom during the fall semester)

College transfer (for those interested in continuing their education after graduating from TSCT)
---
College Central Network
College Central Network (CCN) is your best "first start" when looking for a job in your field. This is OUR Job Search website used exclusively for TSCT students and graduates. You MUST register to use CCN. New jobs are posted daily and ALL include employer contact information.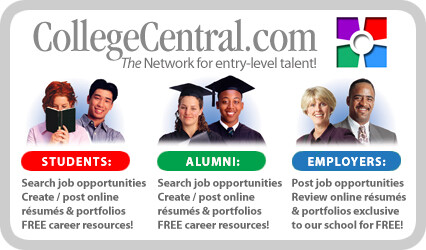 Job Opportunities for Students and Alumni
Are you interested in hiring our students and alumni? Register as an employer within College Central Network: CollegeCentral.com/Stevens. Select "Sign Up", select "I am an employer" from the dropdown menu, then follow the instructions to create your account. Once you create an account, you may post positions on your own or send them to Career Services, who will post them for you: .
---
Helpful Information and Resources
Prospective Students: Three questions you should ALWAYS ask your college recruiter BEFORE enrolling in any college or post-secondary program:

What percent of students who enroll in a particular major actually end up graduating within 2 years (for Associate's Degree) or 4 years (for Bachelor's Degree)?


Of those students who graduate from the program, what percent are working full-time directly in the field they studied?


Of those graduates who are working directly in their field of study, what is the median starting salary for those graduates; and what is the median base salary five years after graduation?
The median five-year placement rate of graduates of Thaddeus Stevens College is over 90%. Placement rate is defined as the percent of graduates who are either working full-time or continuing their education on a on a full-time basis. "In-field" placement rate is defined as the percent of graduates working full-time directly in their field of study or continuing their education on a full-time basis. Many programs have a 100% placement rate. Students seeking full-time employment upon graduation or internships during college should contact the Director of Career Services.
3-YEAR Averages SNAPSHOT - Annual Graduate Employment Survey Results
Data collected via Annual Graduate Employment Surveys (Survey Monkey) one year after graduation each year
Includes placement rates, salary information, internship numbers, and employer recruitment numbers for the classes of 2019, 2020, and 2021
Data collected via Five-Year-Out Employment Surveys disseminated five years after the completion of the Annual Graduate Employment Surveys
Includes a summary report of graduate employment information six years after graduation
Summary includes the following classes: 2011, 2012, 2013, 2014, and 2015.
Lancaster County Economic Overview (2018-2028)
What are our students looking for in a job/career?
We often hear from employers about what they want in a new hire, but we don't ask the prospective employee (our students/graduates) what's important to them. We created a guide that provides employers with a visual representation and compilation of answers to this question, as provided to us by our recent graduates.
Access our "What They're Looking For" guide.
---
Contact Us
Laurie Grove, Director of Career Services
George Colon, Career Services Coordinator
Email:
Phone: 717-396-7188
Location: Hartzell Building, Room 106
Office Hours:
Monday and Wednesday: 8am - 6:30pm
Tuesday, Thursday, and Friday: 8am - 4:30pm
Second Saturday of each month: 9am - 12pm