Job Fairs / Career Events
Our Spring 2022 Career Fairs were held in person and on campus this year. View photos from the events. Information on each event appears below.
Main Campus Career Fairs
Second Year (Sophomore) and First Year (Freshman) fairs listed below were open to all majors except Automotive, Collision, and Diesel programs - there was a separate career fair held for those programs at our Transportation Center.
Second Year (Sophomore) Career Fair (for currently enrolled Second Year students graduating in May 2022 and Alumni)
Date: Wednesday, March 2, 2022
Location: Multipurpose Activity Center (MAC)
Business and industry partners: we have reached registration capacity. Join our waitlist.
First Year (Freshman) Career and Internship Fair* (for currently enrolled First Year students looking for summer Internships and for Pre-Major students)
Date: Thursday, March 3, 2022
Location: Multipurpose Activity Center (MAC)
*Hiring an intern is a great way to introduce students to your business early on. More than 70% of Thaddeus Stevens College of Technology students who worked in their field the summer between their first and second year ended up staying with that company when they graduated (class of 2019).
Transportation Center Career Fair
Students majoring in Automotive, Collision, and Diesel programs participated in this event.
Transportation Career Fair (for currently enrolled First and Second Year students in AUTO, CORT, and Diesel)
Date: Thursday, February 17, 2022
Location: Thaddeus Stevens College Transportation Center
---
Spring 2021 Career Fairs
Due to COVID-19, employers were not permitted on campus during the 2020-2021 academic year. Career Services hosted two virtual job fairs, and is grateful to all who participated!
We utilized Brazen for our Virtual Job Fairs.
Students from all program majors were included in both job fairs - half of the students attended the February event and the other half attended the March event (in theory - there were some exceptions).
While we know this was not perfect (it was a first for us, too) and we would much rather see you all in person, this was the "next best thing" for now.
Combined Totals for Thaddeus Stevens' Spring Virtual Job Fairs (February and March):
Students
871 students registered; 654 students (75%) attended – 65% higher than national average – benchmark for student attendance for all of Brazen's College Virtual Job Fairs is 40-50%).
Side Note: In February 2020, during our Face-to-face, on-campus Job Fairs, 924 students attended the events (with more than 200 companies attending) – considering virtual events were our only option this year, our student participation was exceptional (much better than expected)!
Employers
113 individual companies attended over the two events (48 of those companies attended both job fairs).
Note: the platform limited us to 80 booths per event – we were able to squeeze in an additional few booths at the March event.
227 Employer Reps attended the two events (101 attended both events)
Chats
A total of 2,421 chats were completed!
On average, 3.7 chats/student
Prep Sessions
Between February 1st and March 26th, the Career Services office completed 51 Virtual Job Fair Prep Sessions (AAS program majors – Freshmen and Sophomore; and some short-term classes as well) – THANK YOU FACULTY for giving up time for me to visit with your students!
We were able to reach roughly 900 students via Zoom/Teams virtual meetings during those sessions.
---
Spring 2020 Career Fairs
February 12-13, 2020
Industry
670+ Employer Representatives attended the two-day on-campus event (more than 85 were TSCT Alumni!).
Those employers represented 256 Companies from PA and neighboring states.
Students
930 current second year and first year students attended (85%).
External Activity / Photos of the Event
Students from Cedar Crest High School and McCaskey High School toured the college on Career Fair day. They had the opportunity to see the Career Fair and hear from our employers on the benefits of continuing their education beyond high school at a college like Thaddeus Stevens. Bird's Eye View of Job/Internship Fair: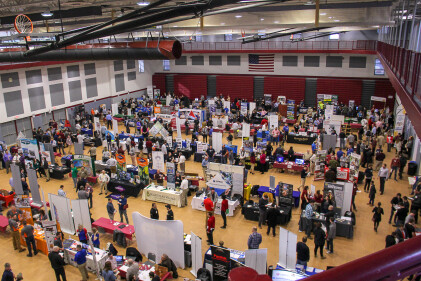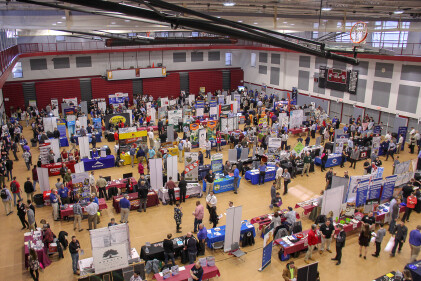 Some of our TSCT Alumni Employer Reps: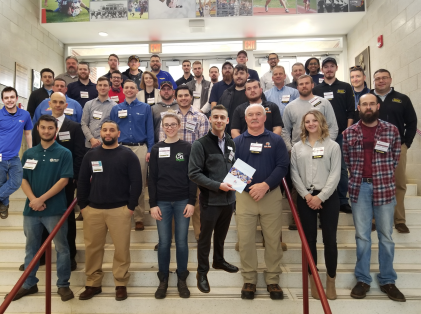 ---
In addition to full-time employment opportunities for our graduates, we are always looking for internship placements for current students over the summer and throughout the academic year.
Contact Laurie Grove, Director of Career Services, for answers to questions or to share internship or employment opportunities: or 717-396-7188.