Commencement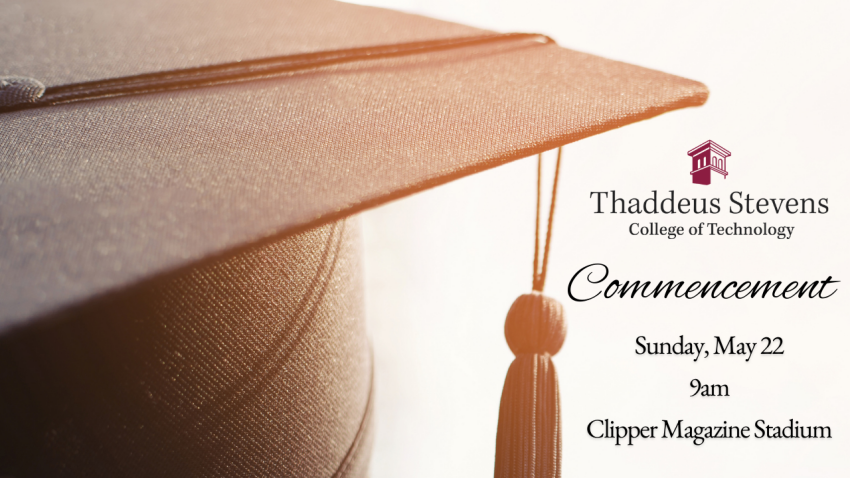 ---
UPDATE: Due to the health and safety risks posed by the extreme weather conditions currently forecasted for Saturday, May 21, Thaddeus Stevens College of Technology is rescheduling the Class of 2022 Commencement ceremony to Sunday, May 22, at 9 a.m.
This webpage offers the most up-to-date information about Commencement. Information and resources associated with this special event appear below.
Location and Parking
Commencement will take place outdoors at the Clipper Magazine Stadium. The address is: 650 N. Prince Street, Lancaster, PA 17603. Directions are available on the stadium's website.
Please note, parking is limited at the stadium and carpooling is highly encouraged. When the parking lots reach capacity, attendees may search for parking in local parking garages or on the surrounding streets, where permitted.
Personnel will be available to help direct students, families, and friends.
Arrival Time
The main gates to the stadium will open at 7:30am.
Students must arrive by 8am and report to right field within the stadium to check-in.
The event will begin promptly at 9am, and is expected to last approximately two hours.
Tickets
Commencement tickets are required for families and friends to enter the stadium. Tickets are free and available for pick-up in the Academic Affairs Office (Mellor Building) now through Friday, May 20, between the hours of 8am - 1pm and 2pm - 4:30pm. Each graduating student may request up to ten tickets from the Academic Affairs Office. Please bring your TSCT ID when picking up tickets.
Accommodations
If you or someone you know who plans to attend commencement has an accommodation, such as an interpreter, wheelchair accessibility, etc., please call or email Tony Miller for assistance: 717-629-7051 or .
Weather
Commencement is a rain or shine event. The current weather forecast in Lancaster is calling for temperatures in the 80s. Please be sure to keep yourself hydrated, while planning and preparing accordingly.
We will provide students with a bottle of water at their seat on the field.
Diplomas
At commencement, students will receive their diploma cover on stage – actual diplomas are not distributed at commencement because final grades have not been submitted and processed yet. Students will receive their diploma via U.S. Mail (typically in mid-June) once they meet all graduation requirements.
Livestream
Can't make it to commencement? We will be livestreaming this event! Access the livestream from our official YouTube page.
Photos
Photos from commencement are available to download for free from our Flickr account. They are available in three separate photo albums:
Event photos: https://www.flickr.com/photos/thaddeusstevenscollege/albums/72177720299214686
Photos of each graduate accepting their diploma on the stage: https://www.flickr.com/photos/thaddeusstevenscollege/albums/72177720299248282
Photos of each graduate holding their diploma: https://www.flickr.com/photos/thaddeusstevenscollege/albums/72177720299246379
Commencement Program
Download the official Class of 2022 commencement program, which was was distributed at the event.
Social Media
Please include #TSCT2022 when sharing special commencement moments on social media. Follow TSCT on Instagram, Facebook, Twitter, and LinkedIn for access to photos and video, too.
School Store
The House of Champ College Store will have a mini store setup inside the stadium prior to the official start of commencement. The mini store will close when the ceremony begins, and will not reopen.
While families and friends are invited to shop at the mini store inside the stadium on the day of commencement, you're welcome to pre-order TSCT items online now and pick them up at commencement. To pre-order online and arrange for commencement pickup, visit the House of Champ Store's website and when ordering, tag "customer pick up" at checkout, then write "pick up at commencement" in the notes section. Have a question about this process or need help? Stop by the House of Champ College Store, which is located inside the Alumni House on Main Campus, or email Peg Hess: .
Contact Us
If you have any questions about commencement, please contact Darlene in Academic Affairs:
---
This page was last updated on May 20, 2022.