Commencement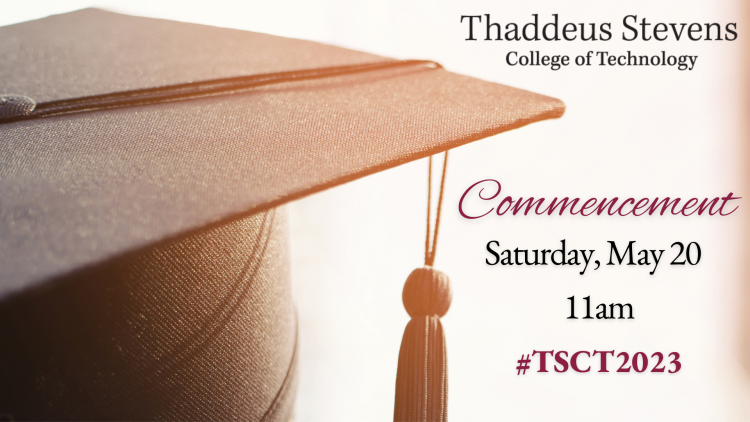 ---
This webpage offers the most up-to-date information about Commencement. Information and resources associated with this special event appear below.
Date, Location, and Parking
Commencement will take place on Saturday, May 20, 2023, at Thaddeus Stevens College of Technology inside the Multipurpose Activity Center (MAC).
Please note, parking is limited and carpooling is highly encouraged. Click here for a parking guide providing information on where students, employees, and guests may park.
Personnel will be available to help direct students, families, and friends across campus to the MAC Building.
Time
The doors to the MAC will open at 8:30am.
Students must arrive by 10am.
The event will begin promptly at 11am.
Tickets
Commencement tickets are required for families and friends to enter the MAC. Each graduating student will receive four (4) tickets. Tickets are free and will be available for pick-up in the Academic Affairs Office (located inside the Mellor Building) beginning Tuesday, April 4. Students may pick-up tickets between 8am and 1pm, and between 2pm and 4:30pm, Monday through Friday. Students must show their college ID when picking up tickets.
Livestream
We will be livestreaming this event! You may access the livestream for free from our official YouTube page.
Cap and Gown
Jostens is the official provider of caps and gowns for commencement. Information on ordering a cap and gown is available on Jostens' website.
Accommodations
If you or someone you know who plans to attend commencement has an accommodation, such as an interpreter, wheelchair accessibility, etc., please call or email Tony Miller for assistance: 717-629-7051 or .
Diplomas
At commencement, students will receive their diploma cover on stage – diploma certificates are not distributed at commencement because final grades have not been submitted and processed at the time of commencement.
Diploma certificates will be mailed to students after commencement, typically in July.
Photos
A professional photographer will take photos of the Class of 2023 throughout commencement.
Professional photos of each graduate holding a diploma cover will be taken prior to the actual ceremony in the Mellor Building. More information will be shared with students via email.
All of the professionally taken photos will be available to download for free from our official Flickr account after the event.
Commencement Program
The official Class of 2023 commencement program is available to download. Printed programs will be distributed at commencement.
Social Media
Please include #TSCT2023 when sharing special commencement moments on social media.
Tag and follow TSCT on Instagram, Facebook, Twitter, and LinkedIn, where we'll also be sharing photos from commencement.
College Store
The House of Champ College Store will be open prior to the official start of commencement in the grassy area across from the entrance to the MAC (in case of inclement weather, the store will be open inside its location within the Alumni House). The store will close when the ceremony begins.
While families and friends are invited to shop on the day of commencement, you're welcome and encouraged to pre-order TSCT items online and pick them up at commencement. To pre-order online and arrange for commencement pickup, visit the House of Champ Store's website and when ordering, tag "customer pick up" at checkout, then write "pick up at commencement" in the notes section. Have a question about this process or need help? Stop by the House of Champ College Store, which is located inside the Alumni House on Main Campus, or email Autumn Nauman: .
Contact Us
If you have any questions about commencement, please contact Darlene Petersen in the Academic Affairs Office:
---
This page was last updated on March 31, 2023.