Hungry Dog: Douglas Hugel '13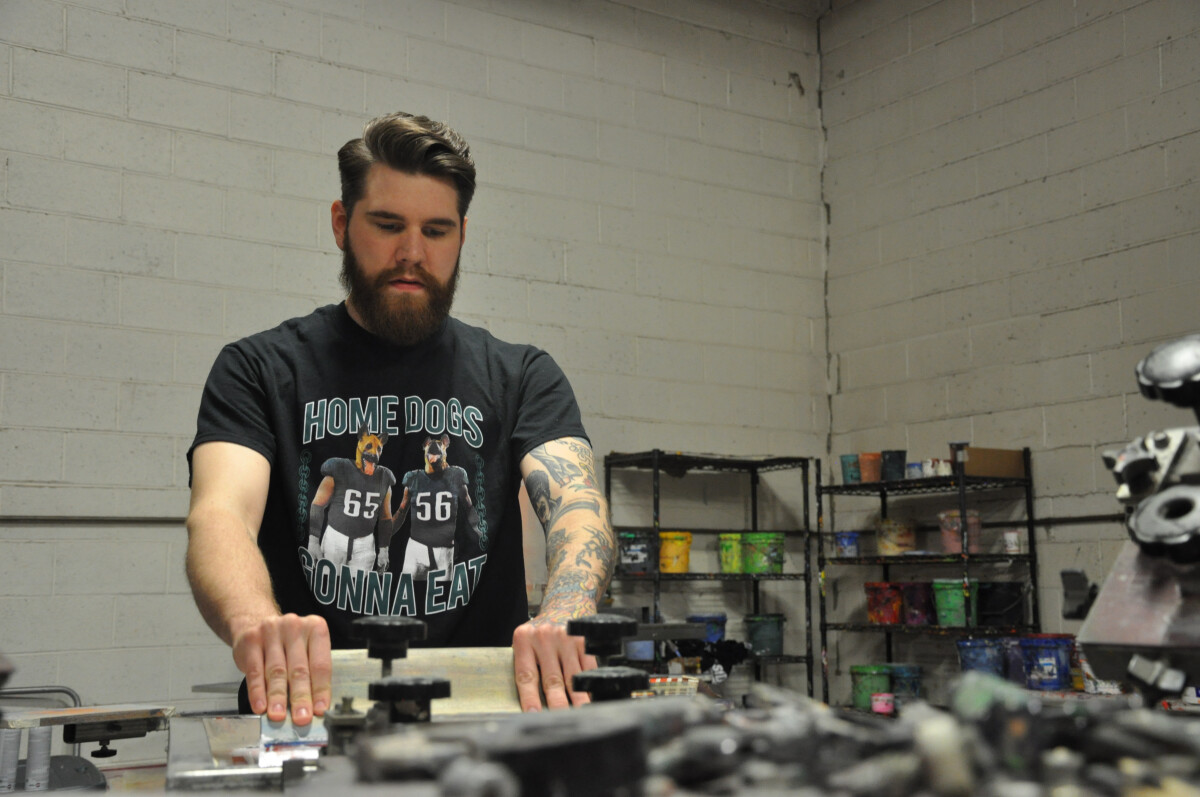 Doug Hugel, Thaddeus Stevens class of 2013, is a die-hard Philadelphia Eagles fan, but he says "it's good" that the wild celebration of the franchise's first Super Bowl title is dying down. And not just because of the parties on Broad Street into the morning hours or the historic parade.
He needs to get caught up on his work for other clients. That's because Hugel, a full-time graphic designer with Logo Warehouse in Broommall, Pa. with a side business Doug Does Design, has been working overtime for an important client— Eagles star lineman Lane Johnson.
After the Eagles won their divisional round playoff game as the first top-seeded underdog in NFL history, Johnson donned a rubber dog mask in the postgame celebration and set off a craze among fans. Right away, Johnson sought to capitalize on the craze, and do some good for Philadelphia's public schools.
"The Monday after the Falcons game, I came in to my job at Logo Warehouse and heard we had a rush order," Hugel explains. Johnson was ordering thousands of t-shirts to sell for charity and needed a design.
"I'm forever grateful for the path
Thaddeus Stevens

has led me on."
"We had done some stuff for Lane in the past," Hugel says, and he set about designing the popular "Home Dogs Gonna Eat"tees. The tagline was his idea. Some of the design things we collaborated on to get it where he wanted it."
Fans were clamoring for the tees. Ultimately, Logo Warehouse printed more than 10,000 and Johnson raised upwards of $150,000 for Philly schools.
"I came into work on Tuesday and they're talking about it on the radio, it's on TV," Hugel says. "For the next four days, we had news stations coming in and interviewing us. Every single Philadelphia TV station was out here" during the week.
"It was kind of a whirlwind."
The next weekend, the Eagles punched their ticket to the Super Bowl with a rout of the Minnesota Vikings. Monday, Johnson's agent was on the phone with Doug for the next shirt. This time, with no advice on how it should look.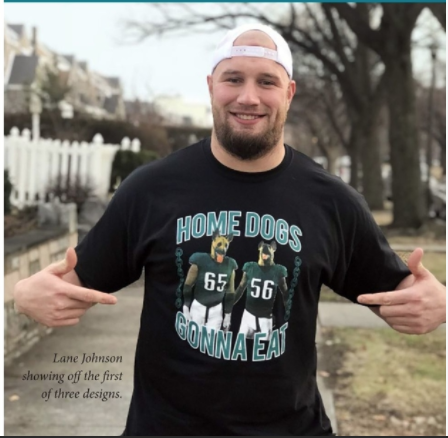 "'Throw something together,'" Hugel was told. He came up with "Unleashed and Untamed: Finish it for Philly!" on the super bowl tees. Johnson even tagged Hugel as the designer on his social media accounts promoting the new tees.
"There have definitely been a lot of people reaching out to me," Hugel says of the experience. "It's something cool to put in my portfolio."
The publicity has not yet led to new business for his own business, which he started at the beginning of last year. But that's ok, he says—he needs some time to catch up on work for other clients. They all understand why his energies have been elsewhere for the past few weeks, he says.
Though a lifelong Philadelphia sports fan, Hugel is new to the city. He grew up in southern Lancaster County. He landed his first job while in college, at Cassel Signs, and worked there for 3½ years. He says he decided to move to a larger city to expand his career opportunities. He started at Logo Warehouse in the summer of 2017. He now lives in South Philly with his own "home dog," a pit bull mix named Riley.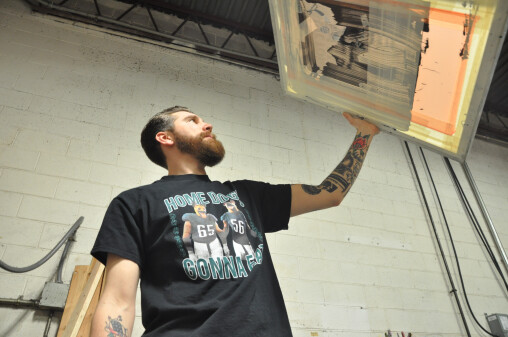 "I never forget where I came from," he points out. "I owe so much to Mike Brady and Brad Adams," his instructors in the Graphic Communications and Printing Technology program at Thaddeus Stevens.
Get one of Doug's designs for yourself.
T-shirts are still available on Lane Johnson's website, lj65.shop/
collections/playoffs-2018.
All proceeds benefit the Fund for the School District of Philadelphia.
Follow Doug!
ig: doug_does_design
www.dougdoesdesign.com