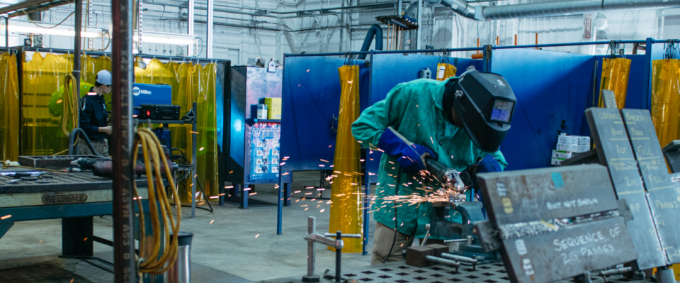 Alex Cahoone, a Second-Year Metals Fabrication and Welding Technology major, was recently named the overall winner of the Project MFG Navy/Maritime Welding Competition. He earned the top score out of 94 competitors from three separate competitions that took place at the Philly Shipyard, the Peninsula Workforce Development Center, and Pittsburgh Technical College.
The competition tested students on the skills required for shipbuilding during a two-hour competition. An overall winner was chosen by scoring each location collectively. Alex competed in the Philly Shipyard competition.
Project MFG partnered with the Pennsylvania Talent Pipeline Project, Virginia Talent Pipeline Project, U.S. Navy, and Department of Defense to host the Project MFG Navy/Maritime Welding Competitions and other career exploration events in an effort to raise awareness about well-paying careers in maritime manufacturing, such as welding, machining, and logistics. The collaborative effort brought in 94 competitors and drew more than 650 students to the events, and provided employers the opportunity to engage with and begin recruiting students.
"As I am sure you know, there is a growing need for welders with your talent," said Ray Dick, the founder of Project MFG. "Your performance demonstrates the dedication and effort you have spent to become a highly skilled welder."
Learn more about this competition on the Project MFG website.
Alex and two other students from Thaddeus Stevens College of Technology were awarded first, second, and third place at the regional competition at the Philly Shipyard last fall. Read more about this competition.